-by flyboy

The below thank you's were written the day after my return from Bonneville on Sep. 7th. I was going to post them as soon as my records became official but yesterday I found out the FIM (World) records won't be announced until the middle of October. Well, I'm not holding back a minute more--.
I'd like to thank Bikeland and everyone on the 14 Forum for helping me learn so much about this bike is so short of time. First off I'd like to thank my crew chief Richad Oliveira, owner of Cycle Imports in Soquel, California who closed his shop for five days to give me the fastest 14 at Bonneville. We plan many exciting changes to my engine this winter. Secondly I'd like to thank Brock for giving me such an outstanding exhaust system and many outstanding maps. Right off the dyno the smeg gave me 17 more horsepower. When I went on my runs everyone told me I had the coolest, most unique sound on the flats. I'd also like to thank Rob Muzzy for giving me one of the first 14 dampers in existence. Without that little device I would never have been allowed to run. I'd also like to thank devious, BobC, Doug Meyer (when he's not on the floor laughing), Dave Owens, Simon Frazier, Fish (who told me to take it easy when I had just gotten my license) and the rest of you that shared so much of your knowledge with me-- a rookie.
Just about to fly--
A proud Driver and Crew Chief--
My goal was 202 mph with my stock engine but unfortunately I did not achieve it. I left Santa Cruz, CA (sea level) with approximately 190 hp on the Dyno running Mr9.
When I got to Bonneville, power was different story. The density altitude was running between 5,300 feet in the early morning hours to 6,000 feet in the 95 degree afternoon heat.
The first thing that had to happen was to have the bike past inspection. Because I was going after AMA and FIM records, two different gentlemen inspected my bike. Everything was fine until the FIM rep saw Brock's straps on the front and said he would not allow them due to the cord possibly wrapping around the wheel. He told me to lower the forks which we did. One more inspection and then we were approved.
Lowering the forks--
When it came time for my rookie run I wasn't quite sure how to handle it. My biggest concern was not "crashing and burning". I had never ridden on salt before and I knew it was slick but all I had to do was go in a straight line, right? One little thing that did give me comfort was what a pilot told me a week before coming out to the Salt Flats. He told me the two wheels on a motorcycle are like gyroscopes and we all know that the faster a gyroscope spins the straighter it will stand up. Therefore, the faster the bike goes, the more it will stay straight up. I was feeling better as I accelerated through the gears. My first run was 167 mph but had difficulty seeing the flags lining the course while in my tuck. During the run I immediately noticed the lack of acceleration due to the altitude.
The Speed Trials had two courses set up, one on top of the other. There was a five mile course for bikes under 175 mph and an eleven mile course for the faster bikes and streamlines. Because of the speed of the 14, I was allowed to run the long course which I really liked because it allowed me to get in more runs. Basically you have 5 miles to accelarate, you're timed miles 5-6, and then you have five miles to come to a stop. The short course started at mile 3, timed mile 5-6, stop by mile 8. Because I needed 3 miles to reach full accelaration due to the altitude, the short course was not good for me.
Setting up camp--
I had driven for 10 long hours with Richard so I was determined to enter as many classes as I could during the weeks' time. Before coming to Bonneville, I studied the records book very carefully and knew the speeds I had to beat and the classes I would enter.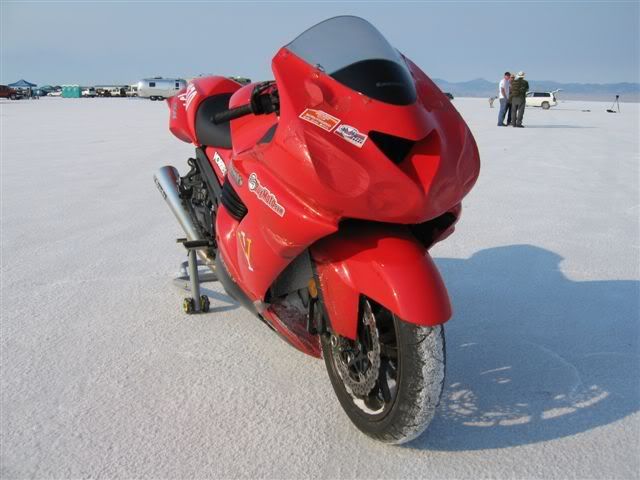 Set up for MPS.
My first class was called MPS/AF 1650 class (AMA- National Record) and Category 1, Group A1, Division B, Type 1, 2000 cc class (FIM- World Record). What that means is that the 14 can run with all it's fairing and the exhaust of your choice. The F signifies Fuel which was because of the Mr9 I was running. This setup was to show me how has the 14 could go in it's best configuration.
The Speed Trials by BUB require you run both ways which takes wind into account and because I was going after a FIM record, the return run had to be made within two hours. That is why this is the only event in the country where you can set a World and National record although I understand the FIM people do come out occasionally to Speedweek. I also understand that you can personally rent out the Salt Flats from the National Parks people and pay to have the FIM people come over from Switzerland just so you can race your car/bike for a record. I can assume that costs big bucks.
Before arriving I knew that Bonneville was about HORSEPOWER, AERODYNAMICS AND GEARING. I bought a 18t front and a 39t rear to complement the stock gearing on the bike. For the next six runs I changed gearing back and forth to see what would give me the most speed. One thing I kept noticing was that my tach would never read above 10,200 rpm when 11,200 is common at sea level.
My best average in this configuration was 195.1 mph which won for me (and Bikeland) the AMA record and I'm assuming the FIM record. (subject to ratification in Switzerland, of course) There was one other 14 running in the MPS class and he was only averaging 185 mph. I don't know how his bike was set up. It should be noted that once you think you have set a record run (two ways) your bike has to immediately be escorted into the impound area so your engine can be torn apart to verify you have the cc's and equipment you say you do. Because I was going to run in two more classes they put nail poiish and other secret markings on my engine so they could tell if it was tampered with at any time in the future.
After I did all I could in the MPS class I brought the bike into the pits and put on the stock headers and exhaust on so I could next run in the Production class - 1650 cc P/P.
After a long day, Richard puts on the stock pipes in preparation for tommorrow's attack. The winds are gusting up to 40 knots during this shot.
Now this is a very interesting class. There has to have been 500 of these types of bikes made and they have to look like they came in off the showroom floor with all the stock equipment present. And, you have to run on gasoline. What the rule book doesn't mention is that you can lower your bike, change the gearing, port out your cylinders and do other little goodies inside your engine compartment to make your bike go faster.... which really doesn't mis-represent the outword appearance of the bike. Well all I had was my stock "untouched" engine. We did however beat out the professional racing team of Falkner/Livington and set a new AMA record of 189.04 mph.
Waiting for my return run in P/P class before the afternoon winds hit--
The last class I ran was M-PF, which means Modified, Production engine, Fuel (AMA) and Category 1, Group A1, Division A, 2,000 cc. Type 1 (FIM). Bottom line—everything comes off the bike including the windshield, and all fairings. I have never run this bike or any other bike in this configuration and I will never forget this experience as long as I live. I drove all this way from Santa Cruz to attempt three records and there was no turning back now. But really, I didn't know what I was getting into--
The beast--
It should be noted that before the runs in this class I removed my weights from the end of the handgrips because I wanted the bike to be as clean (aerodynamically) as possible. As I sat on top of my bike at mile 0 to await my run, an individual appeared out of no where, walked up and told me there are only a handful of people in the world that have gone over 200 mph in the open (modified) class. I told him I didn't expect to go that fast. Just then the starter gave me the green flag to begin my run. As I'm pulling down my visor and throw the bike into gear, this unknown individual yelled out to me-- "MAKE SURE YOUR HAND GRIPS DON'T COME OFF"! I nodded, then gave the engine some gas to begin my run. 50 mph... 80 mph... 120 mph..., I start to go into my tuck. It is as this time that I realize that I have no leg pressure to squeeze the fairing and that the only thing keeping me from flying off the bike is the pressure of my hands wrapped around the grips! As the bike continues to accelerate, the wind on my face, shoulders and chest feels like 400 pounds of pressure trying to rip me off. I think to myself—"What in the fuck have I gotten myself into??" 145 mph.... My life started pasting before me. 160 mph... Thank God I lifted weights this summer. 170 mph and I can barely hang on. "Only one more mile to the timing lights", I thought to myself as my arm muscles began to at trope. I have over 250 parachute jumps, numerous ILS landings down to minimums and I have never been so horrified in my life. I just keep looking at my grips hoping they won't fly off because I would crash and burned for sure. Who was that asshole at mile 0? I'm gonna kill him! The bike is now at full power as I enter the first timing light. I think to myself "tuck". Immediately my mind responds- "Fuck tuck. Hold on for dear life you stupid sonnabitch!". My head's now down on the tank just allowing one eye to keep me straight. Come on. You can do it. You're a Ranger. As I passed the second timing light it seems as if I was moving in slow motion. But the light did pass by and I realized I had done it. I slowly released the pressure on the throttle and the bike began to slow to 160 mph. Both of my hands were cramped and I could barely move my fingers. When the bike slowed down to 100 mph, I realized I was home free. I like challenges in life but this was one I was not quite prepared for. Richard, my crew chief, met me at mile 11 and he could see that I was shakened. After I settled down, I carefully analyzed my run and came to conclusion that I had gone into full speed mode too early into the run. The engine had maxed out at mile 3.5 which meant I held the grip and top speed too long. At that moment a turbo Busa came down the salt just finishing his run and passed by me on his way back to the pits. They hold the most records in the open (modified) category. While looking at his bike it suddenly dawned on me. The back of their seat is vertical allowing their butt to mold into the hump to keep them from flying off the bike at high speeds. That's why. Son-of-a-bitch. Oh well. I love my bike and have since thought of a number of ways to overcome this challenge at the next speed trials. By the way, the return run was uneventful because I knew what I was getting into. The full speed tuck started later so the muscle straining wasn't as desperate. The average of the two runs was 174.94 mph, which was good enough for a AMA record and I'm assuming a World record, subject to ratification, of course. The max RPM recorded in this configuration was only 9,500 rpm. Because I had Brock's exhaust and again ran fuel, I can confidently say that the windshield and fairings are worth 20 mph. Because my rpm's were so low I would not run with that gearing again in open category. The top prize for the open/modified category at the Speed Trials was $5,000. I missed it by only 24 mph. Oh well. I'll get it next year.
The surises at Bonneville are some of the most spectacular I've ever seen.
For four days Richard and I got up at 5:15 were on the salt at 6:30. If I was not first in line to run, I was second. The hussling paid off because I got in 15 runs, more than any other driver at the Trials. After giving everything we had to all three classes and dead tired, it was time to enter impound hell immediately after our last run. All engines must be taken apart and have the bore and stroke measured. In track racing you have to be challenged but here it's- If you want a record, you will take your engine apart. No questions asked!" But I understand, it has to be that way. The only problem was the 14 was the most difficult engine to get into.
The only way to get inside is to lower it forward.
Richard began to disassemble the engine in the 96 degree heat and low and behold two guys stepped over the yellow tape and proceeded to help him tear down the beast. That is the way Bonneville is-- no egos and the friendliest people you will ever meet. Everyone from the records holders to the rookies are the nicest people, offering advice and helping out in any way they can. People loaned us tools, oil pans-- you name it. It was one big happy family. One of the sreamliner owners even gave me three gallons of C-16 fuel free of charge. It was almost like a Disneyland for motorcycles.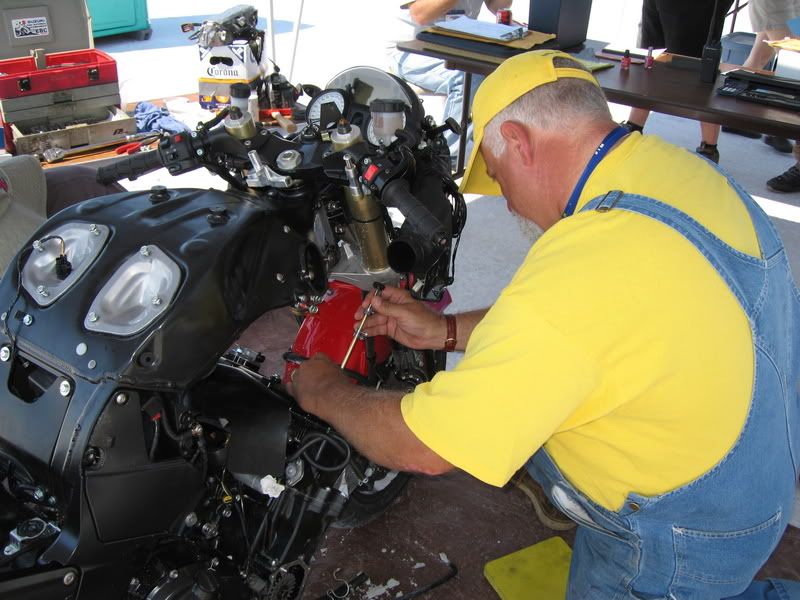 The inspector-- reaching in with 'the tool"--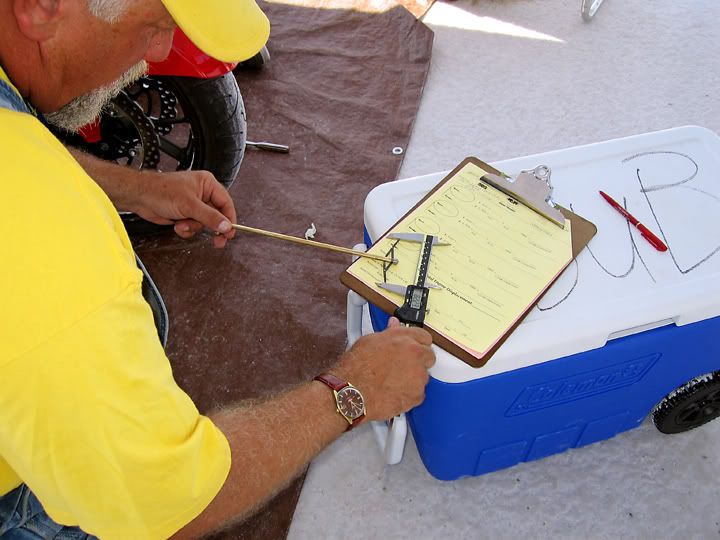 After measuring he told me the 14 was smaller than 1352 cc's. Has Kawasaki pulled a fast one on us?
When it was all over we passed the test and were free to leave impound. Richard took one look at the engine and all the parts on the ground and said, "Fuck it! I'll put it back together in Santa Cruz". Thus we loaded the bike and headed into Wendover for a beer or two or three.
BUB's little rocket set a new world record that week-- 350 mph. I understand it has two turbo Busas inside.
I understand this magnificent steamliner was designed in a wind tunnel. With only a ZX-11 engine on board it went five miles an hour faster through the traps than BUB's did. (above) Unfortunately it blew it's front tire around mile 7 and rolled over onto it's side at about 200 mph. You can see the scrapes in the picture. Further misfortune plagued the owner when he didn't have a spare tire in order to make the return run which would have surely been a new World Record.
Observations made during during the week included:
1) Some of my fastest runs were into a slight headwind thus proving the ram air effect.
2) The stock 1350's (Busa?) were only running 160-165 mph.
3) Numerous people were excited the 14 was at Bonneville and amazed at the speeds it achieved with the stock engine.
4) The Brock Smeg quickly became admired by many.
5) The cool early morning runs did not produce better speeds than the hot afternoon runs.
6) I had shed ten pounds in the months prior to the Speed Trials to get on edge on the competition but it turns out weight is your friend at Bonneville... to a certain point. Most of the really fast bikes have so much horsepower their rear wheel loses grip on the salt and will spin from time to time on a run. Many add lead weight to keep their rear wheel under control. From all this I deduct that you want your bike as light as possible to the point where the rear wheel does not loose traction. Many riders had small GPS's next to their tachs which told them when their wheels were spinning during a run. If the GPS speed suddenly dropped and the tach still read the same, then the rear wheel was spinning and power had to be reduced to pick up the traction again.
7) The 14 is the most difficult bike to take apart for bore and stroke inspection in the impound area. The Busa, probably the easiest.
8) Everyone at the Speed Trials were helpful, courteous and with no ego-- unlike other racing venues I've been told. I'm not referring to Speedweek but to the drag racing and track venues.
9) The 14 hand grips will stay on with no screws.
10) This was one of the greatest weeks in my life and I would love to see many of you guys out there next year! Thanks again for all your help.
By the way, does anyone know about nitro?
Waiting for your run in the heat-- This little 50cc beauty set a new AMA record of 133.85 mph.