By Jon Row
Looking forward to inflation
Jorge Lorenzo shouldn't have earned second place in the Laguna Seca Moto GP main event. In fact, Lorenzo shouldn't have even been riding at all, let alone outrunning everyone but Casey Stoner. In Saturday qualifying, Lorenzo suffered a high-speed high side which slammed him to the pavement hard. The data recorder in his Alpinestars Air suit registered 25Gs of hard. That kind of hit could have ended more than just Lorenzo's weekend. Fortunately, thanks in part to deployment of his air suit's two internal bladders mere milliseconds before impact, Jorge came away bruised and sore but still able to race the next day. Impressive!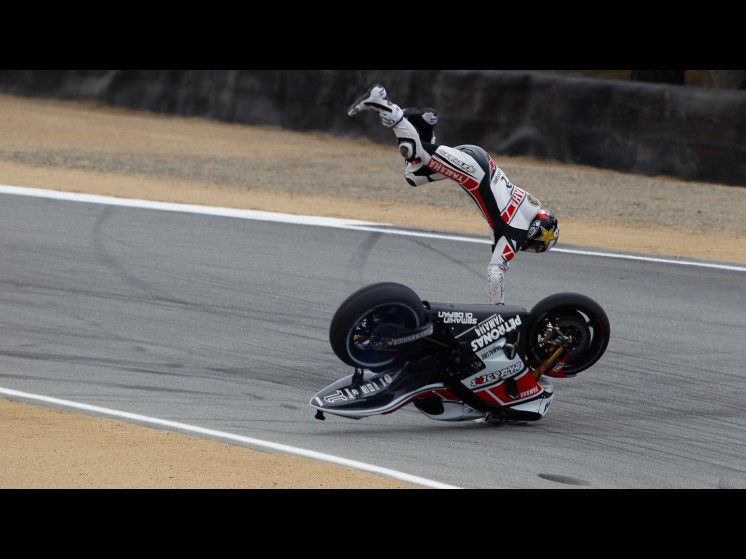 After 10 years of development, Alpinestars is bringing its patented air suit technology to market in Europe this summer with North American release slated for Spring 2012. At an SRP of 6,000 Euro some might think it's a lot of money…or maybe not. More accurately, the price is 3,600 Euro more than the same suit without air protection.
The air technology is self-contained in the suit's hump. It uses proprietary algorithms and sensors to monitor rider arm and leg movements and determine precisely when to activate inflation of its dual air bags. Bag placements are focused on protecting the clavicle and shoulders. Dani Pedrosa and Toni Elias have found a lot to like with their air suits this year. Elias crash-tested his twice in one day. The system's dual charge design can handle two deployments in quick succession if necessary.
Although Pedrosa broke his collarbone at Le Mans, the crash force exceeded the recorder's 30G limit! One can only imagine the result without it.